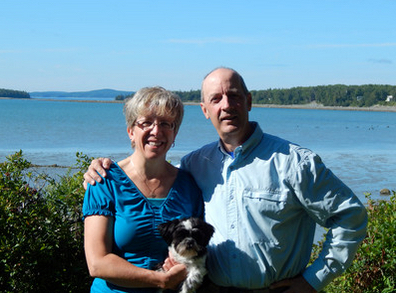 Pastors Ed and Robin are devoted followers of Jesus who yearn to see others set free in Christ!
They both have been active lay members of VBC, serving in a variety of local and conference ministry positions for more than 30 years. Convinced of a full-time calling to ministry, both Ed and Robin completed their Ministerial education through a combination of mentorship and coursework with the Free Methodist Church, as they continued to pursue God's call on their lives and serve where He was leading them. They received their Ordination through the Free Methodist Church in June 2017.
Pastors Ed and Robin currently reside in White Sulphur Springs. They are loving being Grandparents to Lily VeronicaRose Martin and Amelia Joyce Martin. Their two children and son-in-law are all educators (2 college and 1 high school).
Pastor Ed began his service as an Associate Pastor at Vine and Branch Church in 2014. He "retired" in 2013 as a teacher in the Liberty Middle School with 22 years of service. Prior to that, he was employed as the Director of Parks and Recreation for the Town of Liberty, and as a Police Officer with the NYC Dept. of Environmental Protection Police. Pastor Ed is an avid outdoorsman, enjoys golfing, hunting and fishing, and especially enjoys his road bike rides throughout Sullivan County and beyond. In 2013, to celebrate his retirement, he completed a 342 mile ride from Liberty, NY to Virginia Beach, VA. In 2016 he joined a team who rode from Manhattan, NY to Niagara Falls, NY (537 miles) to raise funds for the Roswell Park Cancer Institute of Buffalo, NY.
Pastor Robin retired from teaching Algebra at Liberty High School in June 2016. In addition to her Ordination coursework, Pastor Robin completed a program which certified her as a Licensed Clinical Pastoral Counselor, and a member of the National Christian Counselors Association. Pastor Robin is a gifted Bible teacher, and has served on the FMC Women's Ministry International Executive Board. She has extensive experience as a speaker at Christian Women's retreats and conferences.
Pastor Ed and Pastor Robin have been on four international mission trips, two to Nogales, Mexico (2001 & 2003) and two to Kenya, Africa (2017 & 2020) working alongside FM Missionaries Ken and Letty Myers. In 2009 they had the amazing experience of celebrating their 25th wedding anniversary with a trip to the Holy Land, trekking through the "Land of the Bible" as they traveled throughout Jordan and Israel.
Pastor Ed and Pastor Robin are looking forward to meeting you at Vine and Branch Church, and working alongside you to make a Kingdom difference in Sullivan County and beyond!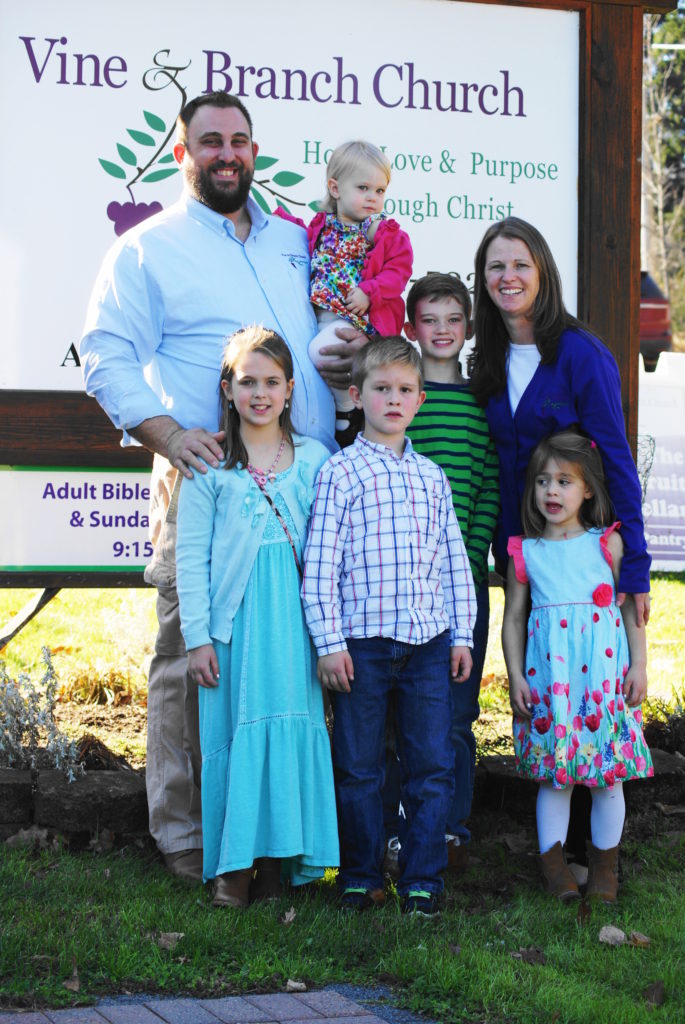 James and Jen Cohen have joined the pastoral team at Vine and Branch Church, serving as the Family Ministries Pastors. The Cohens have delight in family life and seek ways to invest in those raising up the next generation. So, James and Jen have a passion to see parents equipped to disciple their children. The Cohens have a love for children too, as they have been married 12 years and have 5 children of their own. When you do not see them at church, you can find the Cohen's together outdoors in good weather (and of course snow), enjoying a good book, movie, or game as a family making memories.
Pastor James is from Brewster, NY, and a graduate of Word of Life and New Brunswick Bible Institute. He has pastored in NY and PA. James and Jen co-pastored Waverly Community Church in PA together for 11years. Prior to marriage, James started a small church in NY. He and Jen have a passion for missions and have been on several mission trips. Although none together, just wait until those babies get older, Ha! He and his wife Jen share a common love to minister the Gospel wherever they go, even when on their honeymoon!
Pastor Jen is from Southern California and a graduate of Azusa Pacific University. Jen moved from CA to help with the Storhouse Church plant in Philadelphia. After meeting James at a Christian conference, they later married and have been in ministry since. James and Jen see the home as one of the most powerful places of discipleship and love. They are proud to be a part of the Vine and Branch Family!